NO APPOINTMENT NEEDED
JUST CALL IN
FIND OUT MORE....
ORDER YOUR BRIDESMAID DRESSES
FROM A TRUSTED BRITISH STORE
FIND OUT MORE....
SIMPLY STUNNING
WEDDING ACCESSORIES

INCREDIBLE SERVICE
UNBEATABLE PRICES
New Layer
OPEN TO THE PUBLIC SEVEN DAYS A WEEK
NO APPOINTMENTS! JUST CALL IN AT A TIME THAT SUITS YOU
Find more about visiting us and saving.
OPEN 7 DAYS A WEEK. YOUR PERFECT DRESS IS RIGHT HERE!
Stunning dresses from £199 to around £699
TAKE YOUR DRESS HOME THE SAME DAY THAT YOU BUY IT!
Off-the-peg dresses in every style & shape that suits your budget
Latest From FaceBook
💐We are into the last week of our genuine £100 off every dress sale!! Offer ends Sunday the 18th October at 5pm so make sure you come into one of our outlets so you don't miss out! We have thousands of new dresses in ALL sizes. Bridesmaids get tagging your brides 👰🏼
www.wed4less.co.uk ... See MoreSee Less
Play
Comment on Facebook 3024638834308029
Jessica Joan Sarah Liz Zoe Louise maybe we should've gone!! Look at this place it's huge!! Xx
Hollie Birtles Bethany Holyoak I wanna go now .... 🥰
Mandy Wood I wouldn't know where to start!
Charlotte Round good deal.
Abigail-Jane Broadhead xxx
Ellie Katy Rhodes Megan Oliver
Love to work in that shop
Load more
Latest From Twitter
A Beautiful Wedding
A Beautiful Wedding
twitter.com/countyweddings/status/1308871258004533248
weddingdressoutlet.wordpress.com
We love bride Minju's #wedding #dress from @Wed4LessOutlet
Her wedding is featured in the current issue of @CWM_YYW and was captured by @Abraham_Photos 💞 #weddings #weddinghour
Twitter feed video.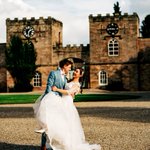 Load More...